Volunteering – It's Good for Your Health
Chad E. Harris, CAE
Chief Development Officer, Cornerstones of Care
2017-18 KCSAE President
Earlier this summer the CEO round table special interest group of KCSAE, changed up its regular monthly gathering. Instead of  sharing insights and professional expertise on a specific topic through a facilitated discussion or guest speaker, we instead shared something much more valuable – our time.
In May, 12 CEOs rolled up their sleeves and traded in association insights for our collective culinary skills, to prepare and serve a meal for the children and families who were guests of the Ronald McDonald House's Longfellow House. The CEO group hosted a picnic-themed meal by grilling hamburgers, hot dogs and chicken breasts, with all the usual picnic fare to accompany, including homemade strawberry shortcake for dessert! It was a few hours of our time, arriving about 4 p.m., serving the meal at 5:30 and cleaning up and departing about 7 p.m. We were glad we could offer a welcome face at the end of a likely tough day of treatment or tests for children at Children's Mercy.
It's been 10 years since ASAE's seminal research study and book, The Decision to Volunteer, which impacted the practices of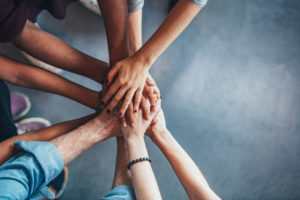 volunteer management in associations. Lessons learned from that research continue to be important in our work today, now a decade later, and coupled with the 2016 ASAE research about mutually beneficial engagement for volunteers in associations – including the need for varied volunteer opportunities, short term commitments, thanking volunteers and helping volunteers know about the impact they make. Our work often utilizes these findings, but we often don't stop to acknowledge they are actually informed by research.
Research outside the association sector tells us that volunteering is a good for our health. An on-going research study by the Mayo Clinic found six health benefits to volunteerism including: decreased risk of depression, provides a sense of purpose and teaches new skills, promotes physical and mental activity, reduces stress levels, helps you live longer, allows people to meet new others and form new relationships.
These practices and research were reflected in the KCSAE CEO service project at Ronald McDonald house – volunteers met new colleagues they'd not previously met, they interacted in a more conversational manner differently through a shared experience than in a passive learning environment, some learned new skills (cooking!) and we all left feeling good about our time together and the task accomplished.
The project was also a reflection of an important trend in volunteer management today – micro-volunteering. A study of employee engagement in social responsibility conducted by Deloitte in 2016 indicated that 71% of those employees who didn't volunteer their time was due to a time constraints barrier. Micro-volunteering is a possible solution to this barrier. Micro-volunteering is limited, short-term, focused volunteer experiences. When tied to larger initiatives, micro-volunteering can help even those who engage for a short time realize the impact they make.
On any given night, Ronald McDonald House Charities of Kansas City (RMHC-KC) serves 87 families. In 2017, RMHC-KC provided comfort and care to 7,325 families as well as opened their doors to support over 60,000 visits from family and friends of patients. Aiding this effort is a massive volunteer need. Last year, more than 15,000 volunteers contributed nearly 48,000 hours to operations, programs and events.
We were just one night, in one house, offering our time. Lunch and dinner, weekend brunch, healthy treats, are provided across the four residences. Reviewing their call for volunteers, now through the end of the year, 10,299 are needed to fill those spots!
Twelve KCSAE CEOs were just a drop in the bucket of volunteer support, but the work was important and appreciated nonetheless, by volunteers, the patients and the staff alike.
The experience is an example that volunteering is often easier than we make it. In our associations we often ask a lot of volunteers – from board members, to committee members, to chapter leaders, to conference planning, to advocacy, to financial donations. In asking for much from others, such as their time, talents and treasures, we too as civic-minded professionals, should be intentional about offering our own volunteer abilities in big or small ways.
So the next time you ask call for volunteers within your own association, consider the practices you are applying to the strategy. And then be sure and listen. Listen and answer the call when volunteer opportunities are presented to you. You'll be glad you did. Volunteering is good for your health!